Vintage Pokemon Cards
& Memorabilia
The Pokemon Trading Card Game was first introduced to North America in 1999! Wizards of the Coast created (in partnership with The Pokemon Company International) sets of cards that would go on to be some of the most iconic and valuable cards in the entire Pokemon TCG franchise. This collection of products honors the founding collections and many of our childhoods. So enjoy the imagery, nostalgia, and fun and maybe pick up a few things for your own collection!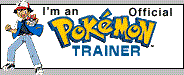 Featured Vintage Pokemon Sealed Packs
These POP Series 1 packs are straight out of 2004 and 2005!
The first and second in the series of Pokemon Organized Play cards, these babies are a collectors dream.
We only have a few available so if you're thinking about picking one up... do it!
Each pack is still sealed. Really great find!







All Vintage Pokemon Products