Pokémon Battle Styles Coming In March!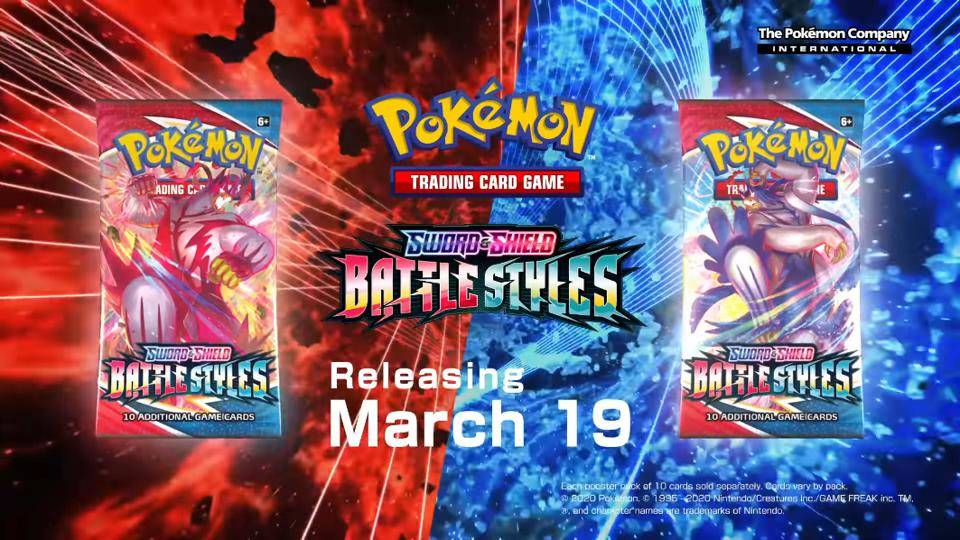 New Mechanics Means New Ways To Play!
Pokémon TCG: Sword and Shield - Battle Styles brings new and exciting ways to match up with your opponent in this new expansion! 

Are you one to overpower your opponent with brute force? Or are you one to strike with precision and speed? The Battle Styles expansion brings both of these methods to light with the new gameplay mechanics of "Single Strike" and "Rapid Strike".  Playing Single Strike is to go all out and throw a big knock-out punch, and to play Rapid Strike is to set up a steady victory through the use of layered tactical attacks. 

Single Strike cards will be accented with red, and Rapid Strike cards will be accented with blue (similar to the old Omega and Alpha mechanics from the XY series cards). Trainers and Energy cards will be available in both Single and Rapid Strike   to help trainers develop the deck and style of their choosing.

Battle Styles expansion will include some Battle Style Pokémon such as Single Strike Urshifu V, Rapid Strike Urshifu V, Single Strike Tyrantitar V, Rapid Strike Empoleon V, among others including both variants of Urshifu in their VMAX forms!

Besides just those Pokémon, you can expect these cards to show up in the booster packs, Elite Trainer Boxes, and collection packs:
60 Battle Styles cards
12 Pokémon V and 16 full-art Pokémon V
Six Pokémon VMAX
19 Trainer cards and six full-art Supporter cards
Two Special Energy cards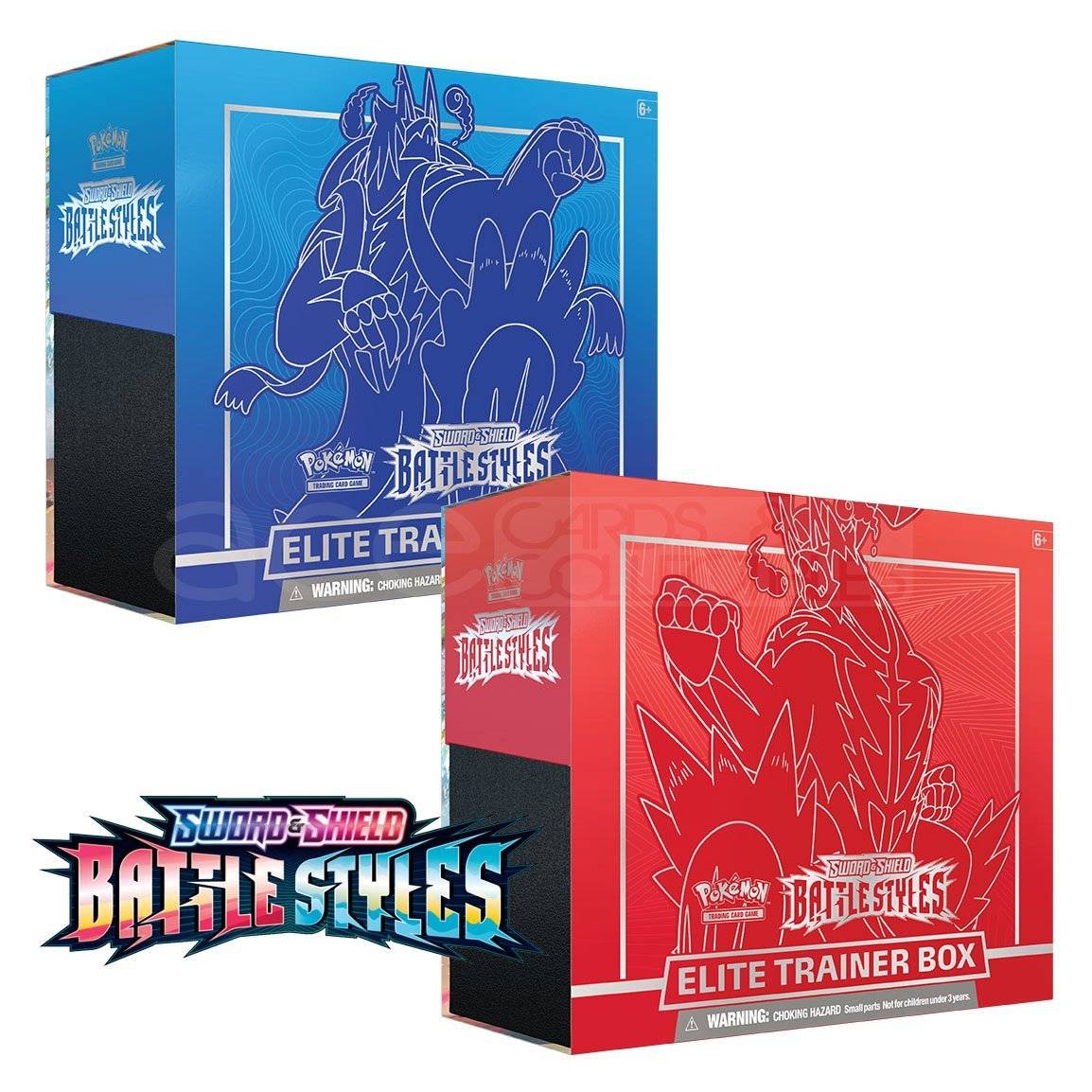 Pokémon Sword and Shield - Battle Styles has a planned release date of March 19th 2021, so with that being said there are TONS of ways to get it once it does actually release. There are the Elite Trainer Boxes, Sleeved Booster Packs, Booster Boxes, Build and Battle Boxes, and more! 
The Elite Trainer Boxes for Battle Styles have two variants; Single Strike and Rapid Strike Urshifu.  Their contents are as follows:
8 Pokémon TCG: Sword & Shield Battle Styles booster packs

65 card sleeves featuring Gigantamax Single Strike Urshifu or Gigantamax Rapid Strike Urshifu

45 Pokémon TCG Energy cards

players guide to the Sword & Shield Battle Styles expansion

Pokémon TCG rulebook

6 damage-counter dice

1 competition-legal coin-flip die

2 acrylic condition markers

Collectors box to hold everything, with 4 dividers to keep it organized

Code card for the Pokémon Trading Card Game Online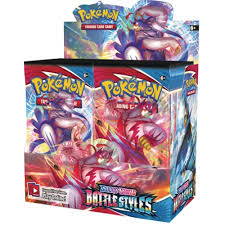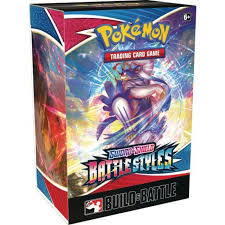 Battle Styles brings back Build and Battle Boxes again and they contain the following:
23-card Evolution pack featuring key cards from current and prior sets, including 1 of 4 alternate-art promo cards

4 Pokémon TCG: Sword & Shield—Battle Styles booster packs

1 deck-building tip sheet
We also will be seeing two variants of a single booster pack blister that each come with a promotional card, competition legal acrylic flip coin, and a single pack of the Battle Styles expansion.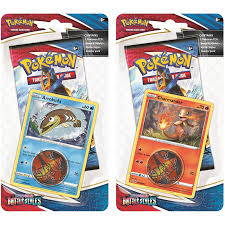 Battle with Style and Flair
While March is still quite a bit away, and we have Shining Fates to hold us over until then, you can still expect BIG things from Battle Styles. Tons of new Pokémon from the Isle of Armor DLC expansion from Pokémon Sword and Shield, and even more ways to mix, match and combine to fine your own unique style of play. 
With strength in mind, there is Single Strike Urshifu V/VMAX, Single Strike Tyrantitar V, Emboar, and Houndoom!
Rapid Strike brings evasion, and utility to the field with Pokémon like Rapid Strike Urshifu V/VMAX, Rapid Strike Empoleon V, and Octillery.
Whichever way you decide to go, bring your A game, as it's not just the battle on the line anymore, but also your style!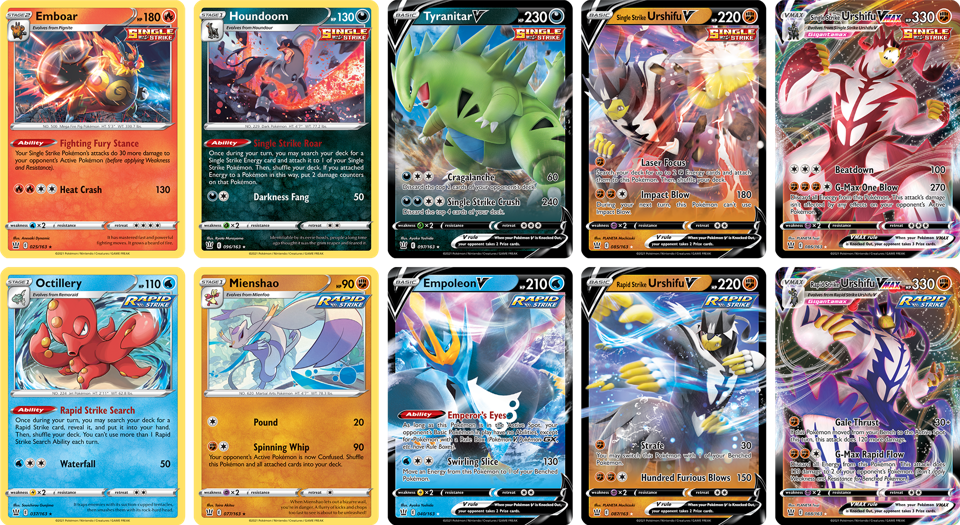 Like This this Article? Read more below!